Eastern Alameda Christmas Bird Count
<! -- Header Image Area— image dimensions should be 670 pixels wide -->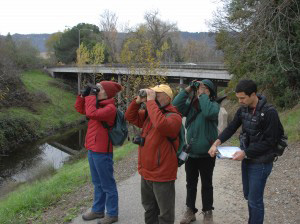 Join the Christmas Bird Count in the upper Alameda Creek watershed, sponsored by the Alameda Creek Alliance and Ohlone Audubon Society
The 9th annual Eastern Alameda Christmas Bird Count will be held in December 2017. Stay tuned for date and details.
A huge thank you to Rich Cimino for organizing the bird count!
The Christmas Bird Count is an annual nationwide volunteer-based bird survey effort coordinated by the Audubon Society to promote bird conservation and assess long-term trends in winter bird populations.
The annual Eastern Alameda County bird count was initiated in 2009. The 15 mile radius count circle is in the vicinity of the towns of Sunol, Pleasanton and Livermore, and includes five East Bay Regional Parks, significant SFPUC watershed lands, and East Bay birding hotspots such as lower Mines Road, Sunol Wilderness, Calaveras Reservoir and Sycamore Grove Park.
Birders and volunteers with any level of experience can participate in the Christmas Bird Count.
Please contact Rich Cimino (Rich AT alamedacreek DOT org; (925) 353-0266) or Jeff Miller (Jeff AT alamedacreek DOT org; (510) 499-9185) if you are interested in being an area count leader.
2015 results: 82 volunteers tallied 149 bird species. Notable birds were: 12 Cliff Swallows over San Antonio Reservoir; an Orange-Crowned Warbler on SFPUC watershed land; a Western Tanager in the Pleasanton Sport Park; two Common Loons on Shadow Cliff ponds; 81 Horned Grebes and 110 Western Grebes on the Zone 7 Chain of Lakes; a Bell's Sparrow in Del Valle Regional Park; 20 Red-breasted Nuthatches in Sunol; and 21 Rock Wrens in Sunol Regional Wilderness. The raptor count for 2015 was: Osprey 4, White-tailed Kite 26, Bald Eagle 8, Northern Harrier 27, Sharp-shinned Hawk 11, Cooper's Hawk 12, Red-shouldered Hawk 40, Red-tailed Hawk 175, Ferruginous Hawk 4, Golden Eagle 33, American Kestrel 87, Peregrine Falcon 13, Merlin 7 and Prairie Falcon 2.
Summary of 2009-2014 bird count data for eastern Alameda County. More than 2 million individual birds counted in 6 years, of 177 different species.
2013 results: More than 90 volunteers tallied 159 bird species. Highlight species included 7 bald eagles, 8 ferruginous hawks, 55 golden eagles, 6 merlins, 3 prairie falcons, 3 pygmy-owls, 3 burrowing owls, 1 saw-whet owl, 13 Lewis' woodpeckers, 24 loggerhead shrikes, 56 yellow-billed magpies, 5 rock wrens, 14 phainopepla and 1 chipping sparrow.
2012 results: 90 volunteers tallied 149 bird species in the count circle. Highlight species included 5 bald eagles, 4 ferruginous hawks, 24 golden eagles, 8 merlins, 5 peregrine falcons and 7 prairie falcons.
2011 results: nearly 90 volunteers tallied 155 bird species. Highlight species inlcuded 3 bald eagles, 6 ferruginous hawks, 47 golden eagles, 4 pygmy-owls, 1 burrowing owl, 1 yellow-bellied sapsucker, 1 red-naped sapsucker, 28 loggerhead shrikes, 160 yellow-billed magpies, 13 rock wrens, 1 canyon wren, 5 phainopepla, and 11 rufous-crowned sparrows.
2010 results: 83 birders tallied 150 bird species; 94th nationally in terms of number of species seen! Highlight species included 100 wood ducks, 3 bald eagles, 7 ferruginous hawks, 21 golden eagles, 6 peregrine falcons, 1 prairie falcon, 2 northern saw-whet owls, 1 red-naped sapsucker, 1 Lewis' woodpecker, 29 loggerhead shrikes, 192 yellow-billed magpies, 155 white-breasted nuthatches, 2 rock wrens, 1 canyon wren, 9 phainopepla, 7 rufous-crowned sparrows, and 25 lark sparrows.
2009 results: 75 volunteers scoured 30 areas within the count circle, compiling an impressive list of 144 bird species. Highlight species included 2 bald eagles, 49 golden eagles, 3 peregrine falcons, 3 prairie falcons, 7 northern pygmy-owls, 1 short-eared owl, 1 Lewis' woodpecker, 176 yellow-billed magpies, 14 rock wrens, 1 canyon wren, 90 tri-colored blackbirds,17 rufous-crowned sparrows, 88 lark sparrows, 3 vesper sparrows, and 2 grasshopper sparrows.
Livermore Independent December 21, 2012 - Some Raptor Species Increase in Annual Bird Count
Contra Costa Times December 18, 2010 - Fowl Weather for a Christmas Bird Count
Livermore Independent December 2, 2010 - Residents Invited to Take Part in Annual Bird Count
East Bay Express December 15, 2009 - Counting the Eagles
Pleasanton Weekly December 11, 2009 - Christmas Bird Count To Be Conducted In Area Parks
List of significant bird areas within the EAC count circle
Map of the EAC count circle
Bird checklist for Eastern Alameda County CBC